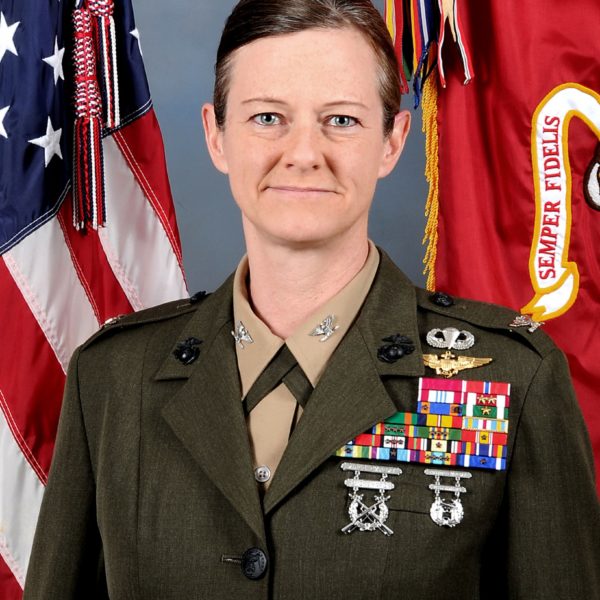 Following her Naval Academy graduation in 1994, Colonel Alison J. Thompson was designated a Naval Aviator and qualified in the CH-53E helicopter. 1st Lt Thompson was then assigned to HMH-464 which turned out to be her parent squadron until 2002. She served in the operations and maintenance departments, earning designations as an Air Mission Commander, Functional Check Pilot, and Weapons and Tactics Instructor.  
Captain Thompson deployed twice with HMM-365 (REIN), as part of 26 Marine Expeditionary Unit (MEU). As a as a Future Plans Officer during her first deployment in 1999, she participated in humanitarian operations in Albania, earthquake relief in Turkey, and the combat entry force into Kosovo. During her second MEU deployment, she was the CH-53E Tactics Officer, conducting operations as part of Task Force 58 immediately after 9/11. Captain Thompson was among the twelve American Helicopter Society Pilots of the Year, 2001, for the seizure of Camp Rhino Airfield, Afghanistan. 
A Congressional Fellow for 2005, Major Thompson served as the Military Legislative Assistant to Senator Elizabeth Dole, advising her on military affairs for North Carolina and the Senate Armed Services Committee. After the Fellowship, she became the Aide-de-Camp to the Deputy Commandant for Aviation. She then joined Marine Air Group 29 and deployed to Iraq for 13 months, serving as Air Mission Commander, Current, Future, and Assistant Operations Officer.  
In 2008, she returned to the states and to HMH-464 as the Operations Officer and deployed for CONTINUING PROMISE in South America. She then served as the Rotorcraft Occupational Field Sponsor at Headquarters Marine Corps. She later became the Commanding Officer of HMH-464 and had the honor of deploying the squadron to Afghanistan.  
Lieutenant Colonel Thompson then earned a Masters in National Security Strategy at the National War College and served as the Vertical Lift, Special Military Staff Assistant at the Office of the Undersecretary of Defense for Acquisition, Technology, and Logistics. She went on to serve in the Marine Corps' Programs and Resources Department as a liaison to Navy budgeting and then in the Budget and Execution Division. She was an MIT, Seminar XXI Fellow in 2016 and a Center for Strategic and International Studies, Women's Global Leadership Fellow in 2017. On June 22, 2018, Colonel Thompson took command of Marine Aircraft Group 49.  
Colonel Alison Thompson's personal awards include a Legion of Merit, Bronze Star, Defense Meritorious Service Medal, Meritorious Service Medal (three awards), Individual Air Medal and Strike/Flight with numeral 10, Navy Commendation Medal (two awards), Navy Achievement Medal, and the Combat Action Ribbon. 
Sources 
https://www.marforres.marines.mil/Marine-Forces-Reserve-Leaders/Biography-View/Article/521883/commanding-officer-marine-aircraft-group-49/ 
https://www.jbmdl.jb.mil/News/Article-Display/Article/1563614/new-commander-takes-mag-49-helm/  
Back To Blog