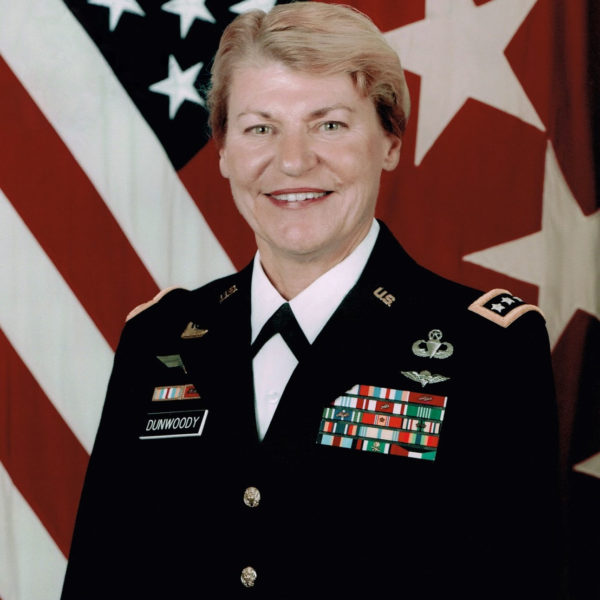 Ann E. Dunwoody is the first woman to earn the rank of four-star general not only in the Army, but the entire U.S. armed forces. General Dunwoody joined the Army in 1974, was commissioned as a second lieutenant in the Women's Army Corps in 1975 and her first assignment was as supply platoon leader, 226th Maintenance Company (Forward, Direct Support), 100th Supply and Services Battalion (Direct Support), in Fort Sill, Oklahoma.  
Her most impactful assignment was as commander of the Army Materiel Command (AMC), one of the largest commands in the Army, employing more than 69,000 employees across all 50 states and 145 countries.  
She became the first female battalion commander for the 82nd Airborne Division in 1992, the first female general at Fort Bragg, North Carolina, in 2000 and in 2008, became the first female to be promoted to four-star general. 
After 38 years of service, General Dunwoody retired in 2012. At her retirement ceremony she spoke about her passion for the U.S. Army, how grateful she was for her journey, and how difficult leaving the military was going to be for her. She also remarked that,   
"Over the last 38 years I have had the opportunity to witness women Soldiers jump out of airplanes, hike 10 miles, lead men and women, even under the toughest circumstances," she said. "And over the last 11 years I've had the honor to serve with many of the 250,000 women who have deployed to Iraq and Afghanistan on battlefields where there are no clear lines, battlefields where every man and woman had to be a rifleman first. And today, women are in combat, that is just a reality. Thousands of women have been decorated for valor and 146 have given their lives. Today, what was once a band of brothers has truly become a band of brothers and sisters." -Gen. Ann E. Dunwoody 
Back To Blog