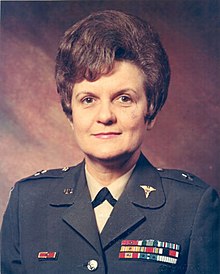 Anna Mae Hays born Anna Mae Violet McCabe Hays in 1920 in Buffalo, New York. Her parents Daniel Joseph McCabe and Matie Florence Humphrey were both officers of The Salvation Army. Hays was the middle child with an older sister and younger brother. During her childhood, her family moved around a lot in New York and Pennsylvania but settled in Allentown, Pennsylvania. She attended Allentown High School (now William Allen High School) graduating in 1938 with honors. While passionate about music with a dream of attending Julliard her finances for tuition were a problem so instead she pursued nursing.
Hays enrolled at Allentown General Hospital School of Nursing and graduated in 1941. The following year she joined the Army Nurse Corps and was assigned with the 20th Field Hospital in India in January 1943. Two years later in April 1945 she was promoted to First Lieutenant. Hays remained with the Corps after the war ended serving as an operating room nurse, then a head nurse at Tilton General Hospital, an Obstetrics Supervisor at Valley Forge General Hospital, and later as a Head Nurse at Fort Myer.
In August 1950, she was deployed to Inchon, during the Korean War and posted to the 4th Field Hospital for seven months. Following her tour in Korea, Hays was transferred to Tokyo Army Hospital in April 1951 and served a year there. A year later, she was transferred to Fort Indiantown Gap, Pennsylvania, as an Obstetric and Pediatric Director. After graduating from the Nursing Service Administration Course at Fort Sam Houston, Texas, she was appointed Head Nurse at the Walter Reed Hospital emergency room, where she served as the Head Nurse of the Radioisotope Clinic. During this time she was selected as one of three private nurses for President Dwight D. Eisenhower after he became ill with ileitis.
She attended Columbia University earning a Bachelor's degree in Nursing Education in 1958 and a Master's in Nursing from The Catholic University of America in 1968. In October 1960, she became the chief nurse of the 11th Evacuation Hospital in Pusan. From 1963 to 1966, she was assistant chief of the Army Nurse Corps. In July 1967, she was promoted to the rank of Colonel, and on September 1 of the same year she was appointed Chief of the Corps, a position she held until her retirement on August 31, 1971.
On May 15, 1970, President Richard Nixon appointed Hays to the rank of brigadier general and on June 11, 1970, she was promoted at a ceremony, officiated by the Army Chief of Staff, General William C. Westmoreland, and the Secretary of the Army, Stanley R. Resor.
Hays made a number of recommendations regarding the treatment of women, which were accepted into military policy, including not to automatically discharge officers for becoming pregnant and not to determine appointments to the Army Nurse Corps Reserve based on the age of the nurse's dependents. In addition, regulations were changed to allow spouses of female service members to claim similar privileges to spouses of male service members.
Hays passed away on January 7, 2018 at the Knollwood Retirement Facility at the age of 97. Pennsylvania governor Tom Wolf ordered the state flag at the Capitol Complex and at all state facilities in Allentown to fly at half staff in honor to her passing.
Sources:
https://www.armyheritage.org/75-information/soldier-stories/229-brigadier-general-anna-mae-hays
https://en.wikipedia.org/wiki/Anna_Mae_Hays
Back To Blog