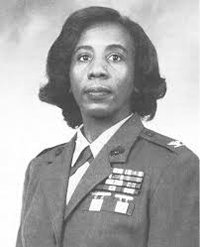 Gilda enlisted in the Marine Corps in November of 1968, when our country was in the Vietnam conflict. She served as an active duty supply clerk from 1968-1972, then decided to transfer to the reserves while finishing college. After graduating, Jackson was commissioned in 1975.  
In October of 1997, Lt. Col Jackson made history when she was promoted to the rank of Colonel, as she was the first African American women in the Marine Corps to achieve this. This accomplishment was extremely important to her, as she strives to be successful in order to inspire and build successful paths for female service members following her. She was also the first female commanding officer in the 56-year history of the Cherry Point Naval Aviation Depot.  
Upon retirement, she became the president and general manager of Lockheed Martin AeroParts, supporting various military aircraft. Gilda then went on to enter the political world, as a candidate for the North Carolina House of Representatives.  
Retired Colonel Gilda Jackson received Recognition for Life Achievements on April 15, 2002 for being an outstanding alumni of Ohio independent colleges and universities, paving the way for women and minorities in the U.S. Armed Forces. She was also inducted into the Ohio Foundation of Independent Colleges Hall of Fame on April 10, 2002 in Columbus, OH.  
https://www.marines.mil/News/Marines-TV/videoid/554840/ 
http://mpmamemorial.org/Womens%20History.html 
Back To Blog