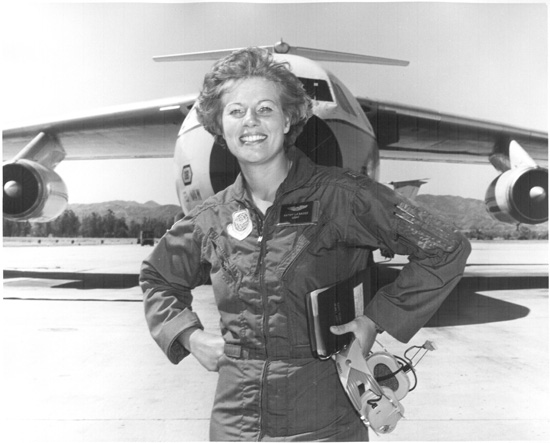 Kathy La Sauce is a retired United States Air Force pilot with resume of barrier breaking firsts for woman. She was the first woman to pilot a C-141 Starlifter, the first woman aircraft commander at Norton Air Force Base, a part of the first class of women graduates from Williams Air Force Base.
La Sauce first joined the U.S. Air Force in 1972. Although she wanted to fly, women were not allowed at the time, but she still signed up to serve out of patriotic duty.
She began flight training at Williams Air Force Base on September 29, 1976 with a group of women, Undergraduate Pilot Training (UPT) class 77-08, many of whom would go on to attain notable achievements in their field. The class became the Air Force's first class of women graduates on Sept. 2,1977.
While assigned to the 14th Military Airlift Squadron at Norton in 1978, she became the first female to pilot the giant cargo jet, logging more than 3,000 hours in the C-141, known as the workhorse of its day.
La Sauce and the other members of UPT class 77-08 were inducted to the Women in Aviation, International Pioneer Hall of Fame in 2016.
Lt. Col. La Sauce's flight suit displayed at Norton Air Force Base Museum.
"Don't ever accept a barrier. There's some stories … that you wouldn't believe about how hard it was to convince the military that the only answer to providing a strong national defense was to realize … that talent can be both male and female…If I went to battle, if I went to war, I want the best. And if that happened to be an all-women unit, then let's go to war." – Kathy La Sauce
Source:
https://www.sbsun.com/2014/02/13/norton-afb-female-pilot-aims-high-sets-lofty-goals-for-women/
https://en.wikipedia.org/wiki/Kathy_La_Sauce
https://www.military.com/daily-news/2020/03/07/female-air-force-pioneers-message-women-dont-ever-accept-barrier.html
Back To Blog