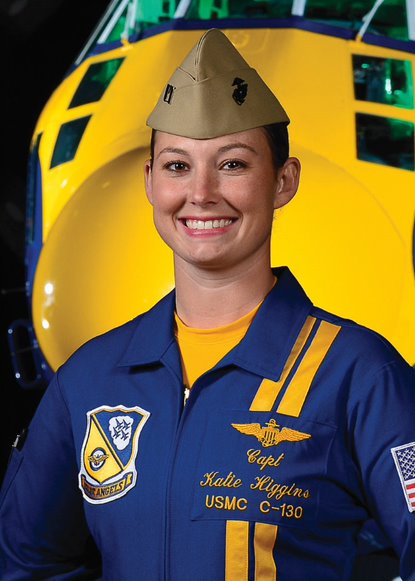 Major Higgins Cook is a third-generation military aviator. Her grandfather served during World War II, Korea, and Vietnam, and her father was an F-18 fighter pilot in the Navy. After graduating from the US Naval Academy in 2008, she joined the Marines Corps while following her family footsteps. 
Cook was one of very few female Marine aviators to fly combat missions in Afghanistan during Operation Enduring Freedom. Following that, she was assigned to Uganda to support contingency operations in Africa. It was during this deployment when she received an unexpected call from a member of the Blue Angels, inviting her to apply for the elite aviation demonstration team. At that time, Cook was still a junior captain, but she decided to accept the challenge. 
Major Cook doesn't take all the credit for breaking barriers. According to a 2018 interview, she claimed that amazing women like the WAVES of WWII, LtCol Sarah Deal Burrow (first USMC Pilot), and the countless other women in support roles on the Blue Angels team helped carve a path for her. According to Cook, when she was in the cockpit, she wasn't the 'Lady Blue Angel'. Instead, she was just another pilot. And she could fly planes just as well as her teammates did. 
After two years of flying with the Blue Angels, Maj. Cook then served as the Airfield Operations Company Commander, MWSS-271, EAF Bogue, NC. 
https://www.boldbusiness.com/human-achievement/katie-higgins-cook-first-blue-angels-pilot/ 
Back To Blog