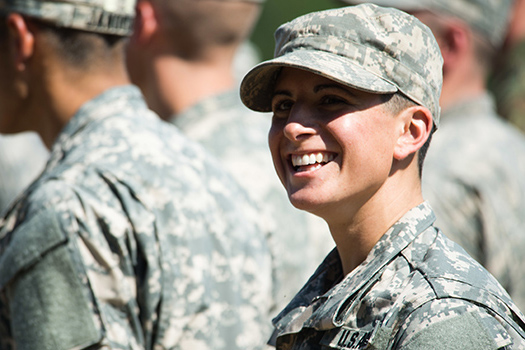 In 2011, Kristen Griest was commissioned as a 2nd Lieutenant in the Military Police branch– an option available to women where she felt would give her experience closest to the infantry. She was assigned to the 4th Brigade Combat Team "Currahee" of the 101st Airborne Division (Air Assault) where she served as an MP Platoon Leader from 2012-2014. She also deployed to Afghanistan in 2013 where she led over 100 missions outside the wire performing convoy escorts and working with the Afghan Army during Operation Enduring Freedom. During this deployment, she was awarded a Bronze Star Medal. 
In January 2015, the Army invited Griest to join a select group of 109 women to attend Army Ranger School out of an application pool of 400. After a mandatory pre-Ranger School course, only 19 women were invited to begin Ranger School training. 
On August 21, 2015, Kristen Griest and Shaye Haver became the first two women to earn Ranger tabs.  Kristen was also promoted to Captain this same day. 
In April 2016, Captain Griest earned her blue Infantry cords upon graduation from Maneuver Captains Career Course. She transferred from her Military Police unit and became the first female infantry officer in United States history. She was assigned to 4th Ranger Training Battalion of the Airborne and Ranger Training Brigade at Ft. Benning as a platoon tactical trainer, where she would become an instructor for the Darby Phase of Ranger School. 
Captain Griest took command of Bravo Company, 2-505th Parachute Infantry Regiment in April of 2017, and is currently serving in that position in the 3rd Brigade Combat Team, 82nd Airborne Division. 
Back To Blog