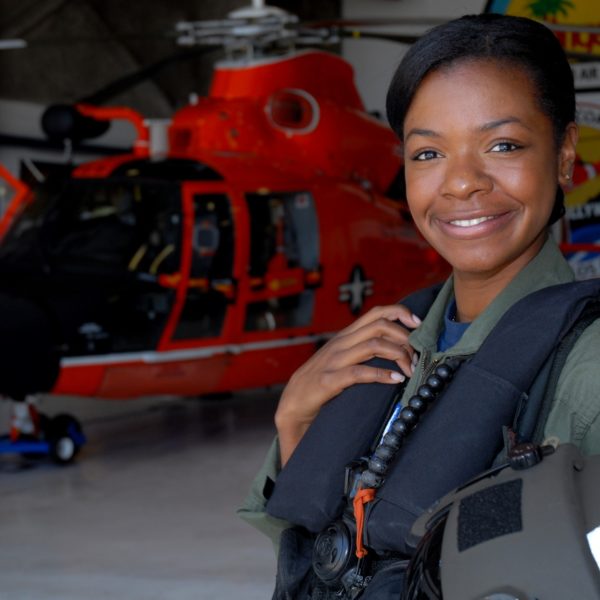 La'Shanda R. Holmes is a Lieutenant Commander in the U.S. Coast Guard and the first African-American female helicopter pilot for the Coast Guard. She grew up in the foster care system and put herself through Spelman College. Between her junior and senior year of high school, Holmes said she stayed in a total five homes. Holmes was adopted at 17 years old by Linda and Edward Brown. She graduated from high school at the top of her class. In 2003 she joined the U.S. Coast Guard and enrolled in her dream school, Spelman College where she graduated in 2007 with a BA in Psychology.
While volunteering at career fair, she spoke to a U.S. Coast Guard recruiter and met Lt. Jeanie Menze, the first African-American female aviator in the Coast Guard. Holmes decided then she wanted to fly. She graduated from Officer Candidate School in 2008 and completed flight school in 2010. She became the first African-American female helicopter pilot for the Coast Guard.
She was an Aircraft Commander at Air Station Los Angeles, Air Station Atlantic City (where she was deployed multiple times to Washington D.C. (NCR) as a rotary wing air intercept pilot), and Air Station Miami. She has amassed over 2,000 flight hours conducting search and rescue, counter drug, law enforcement, and Presidential air-intercept missions. She was appointed as a White House Fellow in 2015 by President Barack Obama. In 2015–2016 she was the Special Assistant to the NASA Administrator General Charles F. Bolden.
Holmes is a Bonner Scholar. She sits on the board of directors for Tomorrow's Aeronautical Museum, Foster Club, and Girls Fly!
She said the sky's the limit – pun intended. Holmes is currently finishing up a master's degree in administrative leadership and plans to write a book.
Sources:
https://connectingvets.radio.com/articles/lashanda-holmes-first-female-african-american-helo-pilot
http://www.stlamerican.com/news/local_news/u-s-coast-guard-helicopter-pilot-la-shanda-holmes-defies/article_6055366c-f2c7-11e6-83af-f33132d341bf.html
https://en.wikipedia.org/wiki/La%27Shanda_Holmes
Back To Blog