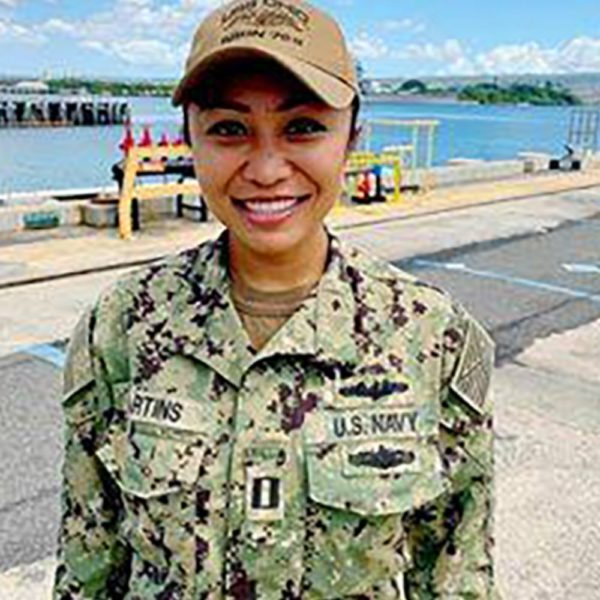 In September of 2019, Lt. Melanie Martins, a supply officer serving aboard USS Ohio (SSGN 726), became the first Filipina to earn her submarine warfare insignia, worn by all qualified submariners worldwide. 
The submarine warfare insignia is a universally recognizable symbol of a submariner's experience, competency and in the case of officers, ability to assume command in an emergency. Over the course of many decades, earning one's "dolphins" has evolved into a rite of passage in submarine culture. 
Martins, who hails from Angeles City, Pampanga, Philippines, made the challenging transition from the enlisted aviation community to the officer community of a guided missile submarine in 2013. 
The insignia is an unspoken indication that the wearer has challenged the depths of the seas and has been deemed worthy of donning it by their peers. Those who wear "dolphins" are widely acknowledged as part of an elite community, and as Martins relates, accepted as part of a close-knit team. 
"I felt like I knew my wardroom for a very long time when I first got there! There was no awkward moment with anyone, even in the enlisted ranks," said Martins. "My first experience was scary, especially when I found out how to get in and out of the boat. I was so scared to climb up and down the escape trunk. The passageways are so tight, and the compartments are confusing, but everyone is willing to show and teach you where everything is, so I got familiar with the boat quickly." 
Martins said the challenges of being a submariner exceeded her expectations.
"I thought it was hard. I was wrong. It is really, really hard," said Martins. … but then I realize that not all people are offered this opportunity. I have to grab it and be the best that I can be." 
Source 
https://www.navy.mil/submit/display.asp?story_id=113166 
Back To Blog