For many, Memorial Day marks the unofficial beginning of summer. For others however, Memorial Day looks very different from family gatherings and department store sales. Instead, Memorial Day is the somber remembrance of those who so willingly gave their lives for this great experiment. For those who remember, Memorial Day weekend is filled with trips to cemeteries, flags at half mast, red poppies on headstones, and memories of those gone too soon. 
To begin to fulfill that which we owe to each of our fallen servicemembers, we would like to honor the following women for their sacrifice and encourage Americans to remember and share the stories of fallen heroes this Memorial Day and in the years to come. 
Today and every day we honor all those who willingly laid down their lives in service to our Country and pay special tribute to the 174 women who have given their lives since the wars in Iraq and Afghanistan began. Major McClung, Captain Moreno, and Senior Chief Kent are among the many women who answered our Nation's call and further demonstrate the integral role of women in the preservation of our freedom.  
… 
Five years after graduating from Mission Viejo High School in Orange County, Megan McClung was commissioned as a Marine officer. In 2005, she was deployed to Iraq as a Media Relations Officer. She had a "larger-than-life" personality and impacted everyone who had the privilege to know her. She organized the first Marine Corps Marathon in Iraq and served as the race director. Despite running with an injury, she placed among the top runners with a time of 3:44. 
On December 6th, 2006, McClung was escorting journalists into downtown Ramadi, Iraq, when her vehicle hit a roadside bomb. McClung and the two other Army soldiers inside, Captain Travis Patriquin and Specialist Vincent Pomante III, were killed instantly. 
As the first female Marine officer to be killed during Operation Iraqi Freedom, McClung's death signified that women in the military- bare the same risks as their male colleagues. In response to the political conversation surrounding her death, Master Gunnery Sgt. John Cordero stated that serving with McClung only confirmed what he had already experienced on other deployments, "Namely, that honor, courage and commitment are not gender-specific attributes." 
A San Diego native, Captain Jennifer Moreno accepted an ROTC Scholarship to University of San Francisco and following her graduation with a Bachelor of Science degree in Nursing, Moreno received her commission in the U.S. Army as a Second Lieutenant Nurse Corps Officer. She completed Army Airborne training, rarely attended by nurses, and volunteered to serve with the Special Operations Command. As a Cultural Support Team member attached to a Ranger Unit, her duties included medical outreach to the Afghan women and nightly Ranger-led missions.  
On October 6, 2013, Moreno and her teammates were conducting a night mission when a suicide bomber initiated an ambush. During the last moments of Moreno's life, she reportedly was given two separate orders. One was a call to help a wounded soldier struck by a blast in field riddled with explosives at a bomb-making compound. The other order was to stay in place. Moreno's courage and selflessness cost her life as she ran back "into hell" to help the trapped soldier. At only 25, she sacrificed everything she had so that others might live. The explosives that detonated in the compound were originally intended for civilians, thus it is incalculable how many other lives were spared that night.  
Moreno was posthumously promoted to Captain and awarded the Combat Action Badge, Bronze Star Medal, and the Purple Heart. Moreno was the first combat casualty to be buried at Fort Rosecrans National Cemetery in San Diego since the Post-9/11 conflicts began.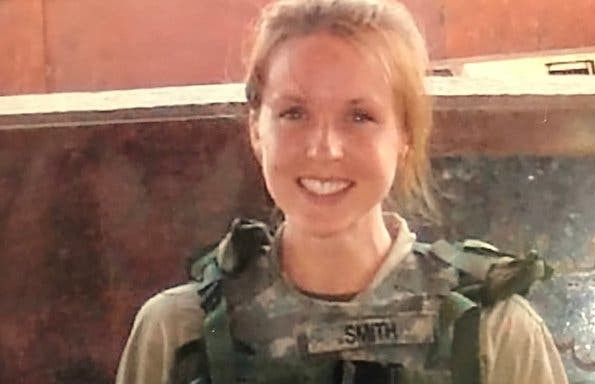 SENIOR CHIEF PETTY OFFICER SHANNON KENT- 
As a cryptological technician for the Navy, Shannon Kent worked alongside SEAL teams in Iraq and Syria to find and eliminate increasing threats. Kent worked closely with Special Operations Forces and "contributed directly to the capture of hundreds of enemy insurgents." Kent played a pivotal role in increasing the effectiveness and performance of the Joint Special Operations Command (JSOC) task force leading to initiatives for broader implementation of females in Special Operations Forces (SOF) for many years.  
In 2018, Kent was admitted to the highly selective Uniformed Services University's Ph. D program. A month later however, she was informed that a previous cancer diagnosis made her ineligible to become an officer and therefor ineligible for the program. Frustrated that she and others were "fit for combat but not to be an officer", Kent brought the issue all the way to the U.S. Congress. While she created movement around the issue, it would not be until after her death that any lasting changes were made. 
On January 16th, 2019, Kent and three other Americans were killed in a suicide bombing in Manbij, Syria. Three weeks after her death, Kent was the first enlisted sailor in U.S. Navy history to be given a memorial service at the Naval Academy's chapel in Annapolis, Maryland. She left behind her husband and two sons. 
Back To Blog