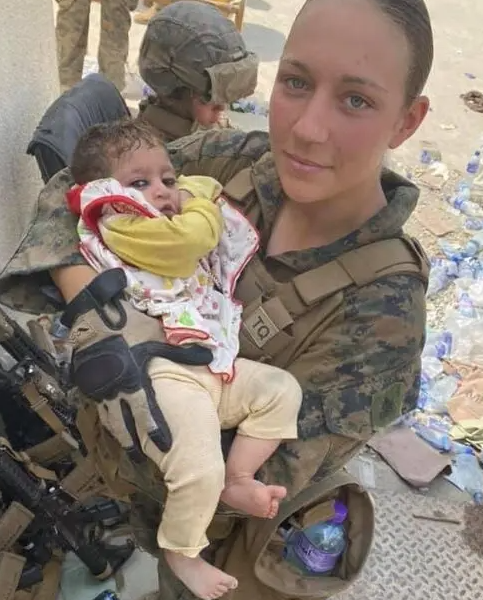 Sergeant Nicole Gee, a native of Roseville, California, enlisted in the Marine Corps in 2017 and was later assigned to Combat Logistics Battalion 24, where she provided maintenance on ground electronics transmission systems.
Sgt. Gee deployed to Afghanistan in support of the Afghanistan withdrawal. There, she served on a Female Engagement Team, to facilitate evacuation support for Afghan women and children.
Sgt. Nicole Gee, 23, was killed in a suicide attack along with 12 other service members. Less than a week prior to her death, Sgt. Gee made a social media post of her caring for an Afghan infant in which she remarked: "I love my job".
During her Memorial service, Sgt. Harrison, a close friend of Sgt. Gee, remarked, "She lost her life so others may live and without a doubt, she died proud. Proud of who she was, proud of what she was doing and proud to be a United States Marine."
Sgt. Gee's actions in addition to the actions of Sgt. Rosario Pichardo, and that of the other servicewomen working in the screening of female evacuees saved, on estimation, over 124,000 lives in America's largest airlift operation ever
Back To Blog