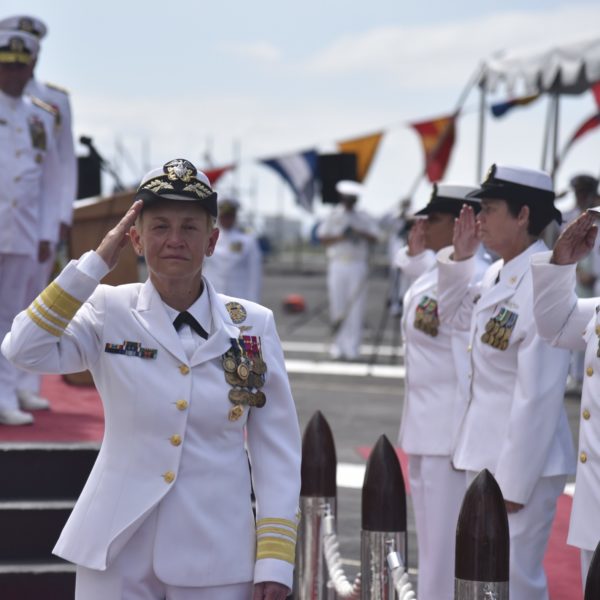 Nora Wingfield Tyson is a Tennessee native and graduated St. Mary's Episcopal School in 1975. She also graduated from Vanderbilt University in 1979 and later that year attended Officer Candidate School. She was commissioned into the U.S. Navy in December 1979. In 1995, she earned her Master of Arts in National Security and Strategic Affairs from the Naval War College.
Tyson had a tour in Washington D.C., then in 1983 she became a Naval Flight Officer and later served three tours in Fleet Air Reconnaissance Squadron Four (VQ-4) in both Naval Air Station Patuxent River and Tinker Air Force Base.
Once she returned to shore, she served as Airborne Communications Officer Course Instructor and Officer-In-Charge at Naval Air Maintenance Training Detachment 1079, NAS Patuxent River, Maryland, then as a Political-Military Planner and Assistant in the Asia-Pacific Division of the Strategic Plans and Policy Directorate for the Joint Chiefs of Staff, the Director of Staff for the Commander of Naval Forces Europe, and an Executive Assistant to the Chief of Naval Operations.
Tyson's sea duty included serving as a navigator aboard the nuclear powered aircraft carrier USS Enterprise and the Operations Officer on the Training aircraft carrier USS Lexington, commanding the amphibious assault ship USS Bataan for relief efforts during Hurricane Katrina, two deployments to the Persian Gulf in support of Operations Iraqi Freedom, and in September 2007 she was promoted to Rear Admiral (Lower Half) taking command of Task Force 73 in Singapore.
On July 29, 2010 Tyson became the first woman to command a United States Navy aircraft carrier task group when she took command of Carrier Strike Group Two with the nuclear powered aircraft carrier USS George H.W. Bush as its flagship. During the ceremony, she stated, "As far as the trailblazing piece, I understand I am the first woman on the job … but I'm a professional just like my fellow officers are, and my fellow strike group commanders." They departed from Norfolk Naval Base in 2011 for overseas deployment.
In an August 1, 2011 ceremony on the George Bush, Tyson was promoted to rear admiral upper half via videolink by  Former President George H.W. Bush.
In February 2012 Tyson served as Vice Director of the Joint Staff. In July 2013 she was promoted to vice admiral and named as Deputy Commander, United States Fleet Forces Command.
In 2015, Tyson was installed as commander of the Third Fleet, making her the first woman to lead a United States Navy ship fleet. Tyson implemented the '3rd Fleet Forward' initiative announced by CINCPACFLT Admiral Scott Swift, retaining Third Fleet operational control of forces, including a three-ship SAG and Carrier Strike Group 1, deployed beyond the hitherto Third Fleet/Seventh Fleet boundary at the International Date Line.
She retired on September 18, 2017 and now resides at Naval Base Point Loma in San Diego County.
Source:
https://navaltoday.com/2017/09/17/first-woman-carrier-strike-group-commander-retires-from-us-navy/
https://news.usni.org/2017/09/18/vice-adm-nora-tyson-retires-command-u-s-3rd-fleet
https://en.wikipedia.org/wiki/Nora_W._Tyson
Back To Blog