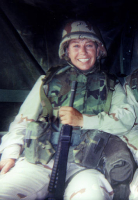 Regina R. Clark, Petty Officer 1st Class, U.S. Navy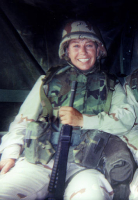 Coming from a Navy family, Petty Officer Regina R. Clark served in the United States Navy just like her father and brother. Clark was a veteran of Desert Storm and was called upon to serve a week after 9/11.
Clark served as a Navy reserve mess cook and was temporarily assigned to the II Marine Expeditionary Force. On June 23, 2005 her convoy was ambushed by a suicide bomber. Many of the troops were wounded and Clark was among those that did not survive.
One of her friends said, "She is by far the strongest human I've ever known, not woman but human."