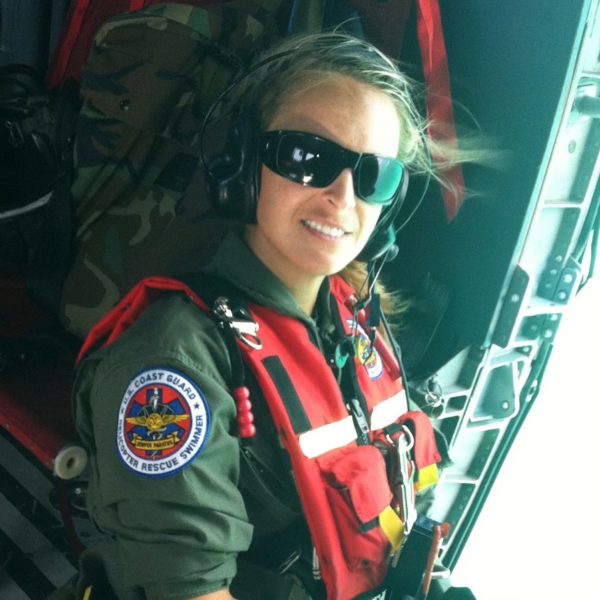 Aviation Survival Tech Petty Officer 1st Class Sara Faulkner (AST1) enlisted in the Coast Guard in January of 1996. She was a crewman for two years, stationed at Motor Lifeboat stations Yaquina Bay and Depoe Bay in Oregon before she decided to follow her dream of becoming a rescue swimmer. Not only did she accomplish her dream, she was also the first female to graduate from the Coast Guard's Rescue Swimmer School. 
Faulkner spent 16 of her 20 years in the Coast Guard flying on helicopters, saving people boats, ships and the water when they had lost their boat to an emergency at sea. During Hurricane Katrina, her aircrew team managed to rescue 48 people in one night.  
She was later nominated by the International Maritime Organization for its "Exceptional Bravery at Sea" award for rescuing three people from a sailboat during a storm with 45-knot winds and 15-foot seas. As she approached the boat during that operation, a wave lifted the stern and swept her underneath. The 63-foot sailboat came down on top of her twice while she was trapped between the rudder and the screw. It was a close call, but she got three people off the boat and into a helicopter. 
AST1 Faulkner's last duty assignment was as a rescue swimmer in Clearwater, Florida, one of the busiest Naval Air Stations in the country. She then retired in 2016, after 20 years of service. 
https://www.soundingsonline.com/features/walking-the-plank-sara-faulkner 
Back To Blog