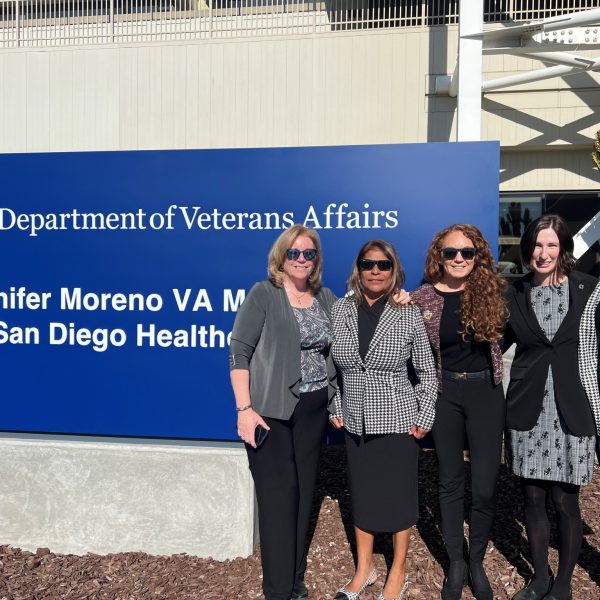 "Let the generations know that women in uniform also guaranteed their freedom. That our resolve was just as great as the brave men who stood among us. And with victory, our hearts were just as full and beat just as fast–that the tears fell just as hard for those we left behind." Anne Sosh Brehm, 1LT, US Army Nurse Corps WWII 
Over two years ago, we joined a panel of local veterans and advocates in forming a San Diego VA Medical Facility renaming committee, led by Karin Brennan, Army veteran and Congressman Levin's office. This morning, these efforts came to fruition as we joined Captain Moreno's family, friends, teammates and mentors in the historic VA dedication ceremony.  
This past March, President Biden signed a bill to officially rename the San Diego VA Medical Center after Army Captain Jennifer Moreno, a San Diego native who made the ultimate sacrifice in Afghanistan in 2013. The new law, originally introduced to Congress by Representative Mike Levin, establishes the La Jolla facility as the third in the country to be named after a female service member.   
Last night, at a private reception for Captain Moreno's friends and family we presented Captain Moreno's mother with an 11" by 14" pencil sketch completed by a high school student in Florida who was inspired by Captain Moreno's story. Detailed along the border of the portrait were words such as "Fierce", "Compassionate", "Intelligent", "Meritorious"- all words used to describe Jenny by her friends and teammates. The artist asked for no recognition, requesting only that the portrait of Captain Moreno find its way to Jenny's family. 
The Jennifer Moreno VA Medical facility serves as reminder to all who pass by and receive care there, that women have and continue to make immense sacrifices on the behalf of our national security.  Captain Moreno's service and sacrifice was critical in opening all military occupational specialties to women and her legacy of compassion, courage, humility, and bravery inspires us all to live lives worthy of her sacrifice. 
Click here to learn more about Captain Jennifer Moreno.  
Back To Blog