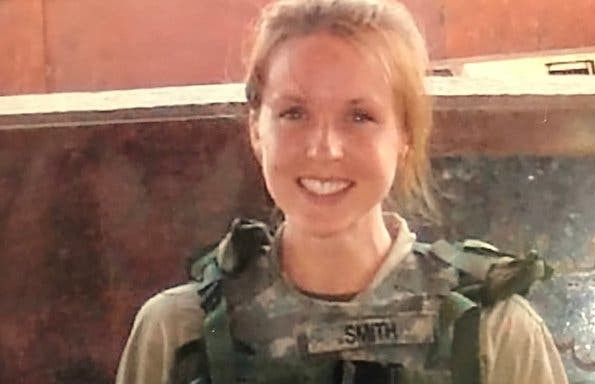 Shannon M. Kent was born on May 11, 1985 in Oswego, New York, to Colonel Stephen Smith, a high-ranking police officer in the New York State Police and Mary Plover-Smith, an elementary school teacher. Shannon grew up in Pine Plains, New York. Since she was young, Shannon was athletic, taking interest in activities like playing volleyball, running track, and riding horses. She even studied Spanish so she could converse with the stable hands.
Shannon and her sister, Mariah Smith, shared a common interest in horses and had conversations about opening a ranch someday to offer equestrian therapy for children with emotional and developmental issues as well as serving veterans with post-traumatic stress disorder. Shannon was surrounded by a family with a tradition of selfless service. Her father and her uncle, a New York firefighter, were both responders during 9/11 and her brother serves in the Marine Corps. Shannon graduated from Stissing Mountain Junior/Senior High School in 2001, although she tried attending college to honor her mother's request, it wasn't long before she began talking to a Navy recruiter and on December 11, 2003 she enlisted in the United States Navy.
Shannon graduated from boot camp at Recruit Training Command, Great Lakes, Illinois and after two years of training she became qualified as a cryptologic technician. Shannon volunteered as a Navy Individual Augmentee (IA) to Iraq and was soon assigned to a Special Operations Task Force in Balad, Iraq, working to find high value targets (HVTs). Prior to the end of her first deployment she was tasked out to Baghdad and it was around this time that her reputation began to grow, as it was rare for a woman to serve alongside these units.
Shannon played a pivotal role in increasing the effectiveness and performance of the Joint Special Operations Command (JSOC) task force leading to initiatives for broader implementation of females in Special Operations Forces (SOF) for many years. It was around this time that Shannon unknowingly crossed paths with her future husband Joe Kent.
After returning home from her first deployment, Shannon took the month long Naval Special Warfare Direct Support Course that included timed ruck marches, advanced training in close quarters combat, and a variety of other foundational skills required to serve alongside Navy SEALs. She set the course for including women in the program. After successfully completing the course she was assigned to the Navy Special Warfare Support Activity 2 in Norfolk, Virginia. She worked side by side with the East Coast based Navy SEALs, who were hesitant about Shannon not just because she was a woman but at the time it was not typical for them to receive non-SEAL support. However, she quickly gained the respect and trust of the SEALs.
In 2009, she went to Iraq, specifically Baghdad, on her second deployment. Although Shannon highly skilled, had attended many courses for high level special operators and possessed a credible reputation, she often had to prove herself over again when joining a new task force.
In 2013, she attended the selection course for a Special Missions unit, where she trained alongside some of the most elite service members, including her husband, Joe Kent. Joe and Shannon were officially introduced by a mutual friend and shortly after began dating. They both successfully completed their training and transitioned into their new unit.
On Christmas Eve in 2014, they got married and soon after began growing their family. Shannon was a self-established overachiever and she worked to finish her bachelor's degree before having her first son Colt. Shannon was either pregnant or pregnant with an infant, while attending college, and working full time at one of the most elite special operations units. She even moved houses twice by herself to welcome their newest family members. Even with all of her responsibilities she still found time for her passions like running marathons, completing a Tough Mudder race while seven months pregnant, working on massive, ornate mosaics, and maintaining a beautiful garden.
In 2016, Shannon was diagnosed with thyroid cancer and was successfully cured following surgery. She was back to work within a day or two.
While pursuing her Master's she decided to become a Doctor of Psychology so she could still be a mom but go on helping others such as veterans struggling with PTSD. Although initially she was accepted into the Navy's highly competitive clinical psychology Ph.D. program at the Uniformed Services University of the Health Sciences, within a month they informed her that they would not grant her a commission as an officer because of her previous cancer diagnosis. Shannon refused to accept their decision and decided to fight against the regulation. She went through the Navy's chain of command and then to Congress. She visited every New York and Maryland senator and congressperson she could and others on the Armed Forces committee. Although she gained traction and made some small changes to the regulations, it was not in time before her next deployment. In 2018, she began pre-deployment training and on November 2018 she headed over to join Operation Inherent Resolve.
On January 16, 2019, in Manbij, Syria, Shannon and three other Americans, Jonathan Farmer, a Green Beret; Scott Wirtz, a civilian intelligence officer; and Ghadir Taher, a Syrian-born contractor, were killed by a suicide attack. The Islamic State of Iraq and the Levant claimed responsibility for the attack. Shannon was the first female combat death in Syria since combat operations began against ISIS in Syria, and the first female U.S. service member killed by enemy fire in more than three years.
Following her death, a memorial was held for her at the Naval Academy's chapel in Annapolis, Maryland, with thousands in attendance and many sharing fond memories of Shannon. The Navy officially amended the regulation that Shannon fought before her deployment in her honor. New York Governor Andrew M. Cuomo ordered state flags flown at half-staff and Duchess County state legislature Chair Gregg Pulver issued a statement praising her as a "Brilliant mind and a small-town hero." She was buried in Arlington National Cemetery in Arlington, Virginia.
Some of Shannon's past assignments were with Navy Information Operations Command, Fort Gordon, Georgia; Navy Special Warfare Support Activity 2, Norfolk, Virginia; Personnel Resource Development Office, Washington, D.C.; Navy Information Operations Command Maryland, Fort Meade; and Cryptologic Warfare Group 6, Fort Meade. She was the noncommissioned officer in charge at the National Security Agency's operations directorate for four years. Shannon reported to Cryptologic Warfare Activity 66 (CWA-66) at Fort Meade after the command was established on August 10, 2018. She was fluent in Spanish, French, Portuguese, and Arabic, and rose quickly through the ranks as a cryptologist at Fort Meade.
Shannon was a decorated servicewoman, receiving the Joint Service Commendation Medal twice, the Navy and Marine Corps Commendation Medal, the Army Commendation Medal, the Joint Service Achievement Medal, the Joint Meritorious Unit Award, a Good Conduct Medal, the National Defense Service Medal, the Iraq Campaign Medal, the Sea Deployment Ribbon, the Rifle Marksmanship Ribbon, and the Pistol Marksmanship Ribbon. Posthumously she was promoted to Senior Chief Petty Officer and awarded the Bronze Star, Purple Heart, Defense Meritorious Service Medal, Meritorious Service Medal, and a Combat Action Ribbon. The Navy also credited her for work done for the NSA's Operations Directorate in Special Operations. Shannon's work was used at the highest levels of SIGINT in deciphering the intelligence gleaned through message intercepts and foreign communications.
Sources:
https://www.stripes.com/news/us/navy-cryptologist-shannon-kent-killed-in-isis-suicide-attack-in-syria-was-torn-between-family-and-duty-1.573889
https://coffeeordie.com/shannon-kent/
https://en.wikipedia.org/wiki/Shannon_M._Kent
Back To Blog