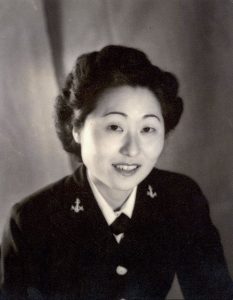 Susan Ahn Cuddy was born in 1915 to Dosan Ahn Changho and Helen Lee, the first Korean married couple to immigrate to the United States. Her parents fought to liberate Korea from Japanese colonization. Unfortunately Susan's father died fighting for the movement. Three years after his death Japan attacked Pearl Harbor and the United States entered World War II.
When the military open the ranks to women through the WAVES program, Susan signed up. However she received much opposition personally and professionally because of her Asian descent and her gender. She was initially rejected by WAVES because of her race but that didn't stop Susan from applying and finally accepted into WAVES.
Susan was sent to a flight-simulating Link Trainer program in Georgia She taught air combat tactics to future naval and trained those who had difficulty handling and firing the guns like a .50-caliber machine gun. After she went to Pensacola, she became the first woman gunnery officer.
Susan eventually was given a Lieutenant rank. She went to work for the U.S. Navy Intelligence, the Library of Congress, the National Security Agency and the Department of Defense. However despite her dedication, she still was look at with much suspicion because of her race, even recalling a time when a supervisor refused to let her near any classified documents.
In 2003, the State Assembly of California of District 28 named Cuddy the Woman of the Year in honor of her commitment to public service.
On October 5, 2006 she received the American Courage Award from the Asian American Justice Center in Washington D.C.
She continued to be active at Navy and Korean American events, raising money for causes like breast cancer (which she is a survivor), and was honored with numerous accolades by government bodies and nonprofits.
At 100 years old, Susan Ahn Cuddy passed away in her home.
"These were all firsts as an Asian American woman in a man's world… Anti-Asian sentiment was brazenly prevalent, but that didn't deter Susan Ahn Cuddy—she just knew what her mission was." – Supervisor Mark Ridley-Thomas
Source:
https://navylive.dodlive.mil/2015/05/20/first-female-asian-officer-speaks-about-her-naval-service/
https://en.wikipedia.org/wiki/Susan_Ahn_Cuddy
Back To Blog